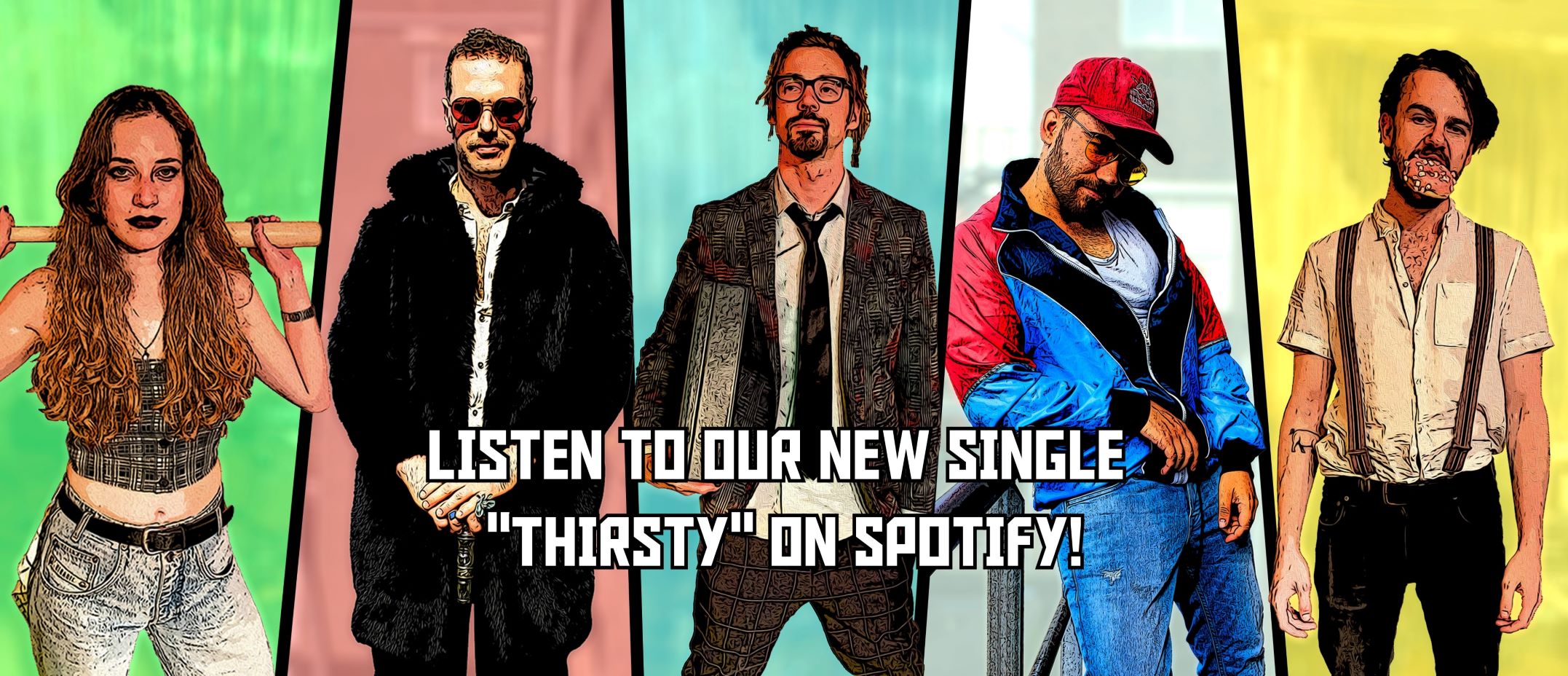 El Fatso sounds like a bromance between Joshua Homme and The Big Lebowski: a mix of acapulco-shirts, motoroil and white russians.  The Rotterdam based band describes their style as Rock 'n' Roffa: bawdy, intelligent and sexy. They get their inspiration from the work of QotSA, Arctic Monkeys and Millionaire. Music for a nighttime drive on the highway: speeding tickets guaranteed.
No shows are planned due to Covid-19..
Sign up for our newsletter!
Anna Friele – Nobel Award
"El Fatso immediately started with a wonderfully thick (or Fatso) sound that acutely 'nodded' the heads in the audience. It is not surprising that they won the audience award earlier at the Eendracht Festival and their first single was number 1 on Reddit for a while. But not only the hard dirty music, also the stage presence of the gentlemen was infectious; from the matching Hawaii shirts to the smooth head movements of the bass guitarist and the drummer who managed to unleash his own dreadlocks mid-set. A wonderful performance that created a great vibe."
– 3voor12
"
After a lot of funny promotion on social media, El Fatso gave a sold-out release party in Roodkapje, Rotterdam. El Fatso makes cleverly put together rock music. Rough, mysterious, sexy yet so catchy! You can easily keep moving throughout the set. The mainly low vocals of Tom Schreuder regularly have something dark. For a Dutchman, his accent sounds very American. A little later in the set, Juriaan van der Graaf makes great use of his cowbell for 'Thirsty'. During 'King Louie' El Fatso gets more and more love and energy from the exuberant audience: a moshpit and attempted crowd surfing. El Fatso can be absolutely proud of their release party

."
Order our debut EP on Vinyl
Pro Bono Mixtape
Sold out
23|05|2020          Leiden| Lazaru's Cancelled
28|03|2020          Hoofddorp|Poppodium Ducyker (Support X Raiders) Cancelled
21|03|2020          Rotterdam|Voigt (Voigt 4T) Cancelled
13|03|2020          Leiden| Gebr. de Nobel (Support Ten Times A Million) Cancelled
22|02|2020          Rotterdam | Rotown (Support Ten Times A Million)
15|01|2020          Bergen op Zoom | Gebouw-T (T-Strijd, voorronde)
22|12|2019          Leiden | Gebr. De Nobel (Nobel Award, finale)
16|11|2019          Leiden | Vrijplaats (Nobel Award, voorronde)
06|10|2019          Dordrecht | Bibelot (Support Broncho) Cancelled
18|07|2019          Rotterdam | Eendracht Festival X
13|07|2019          Nijmegen | Live in de Betouw
14|06|2019          Utrecht | Café 't Oude Pothuys
07|06|2019          Rotterdam | Eurotrash
24|05|2019          Leiden | Lazaru's
17|05|2019          Groningen | Lola
10|05|2019          Breda | Café de Speeltuin
03|05|2019          Lelystad | Utopodium
27|04|2019          Schiedam | Live op Straat
20|04|2019          Amsterdam | Sexyland
19|04|2019          Delft | Steck
13|04|2019          [RECORD STORE DAY]  Rotterdam | Velvet
13|04|2019          [RECORD STORE DAY]  Vlaardingen | Platenreus
23|02|2019          [EP RELEASEPARTY]  Rotterdam | Roodkapje
31|01|2019          Zoetermeer | Boerderij Café
26|01|2019          Rotterdam | Voigt (Bodacious Bingo)
18|01|2019          Gouda | Studio Gonz
29|11|2018          Den Haag | Kompaan (Akoestisch)
16|11|2018          Leiden | Gebr de Nobel (Nobel Award)
03|11|2018          Vlaardingen | KOFA
26|10|2018          Rotterdam | Eurotrash (Bodacious Bonanza)
13|10|2018          Den Bosch | Lohengrin
28|09|2018          Schiedam | De Graauwe Hengst (Brandersfeesten)
23|09|2018          Rotterdam | Rotterdamse Kost (Mikefest, Akoestisch)
15|09|2018          Maassluis | Waterwegpop
28|07|2018          [SPANISH FLY TOUR]  Calpe | Bar Central
27|07|2018          [SPANISH FLY TOUR]  Altea | Brew Rock
26|07|2018          [SPANISH FLY TOUR]  Torrevieja | Moroe's
24|07|2018          [SPANISH FLY TOUR]  Xabia | Botanico
21|07|2018          [SPANISH FLY TOUR]  Calpe | Bar Unity
19|07|2018          Rotterdam | Rotown (Eendracht Festival 9.0)
18|06|2018          Krimpen a/d IJssel | Surfrock
09|06|2018          Rotterdam | Jazzcafé Dizzy (Mikefest, Akoestisch)
08|06|2018          Maassluis | Koningshof (Battle of the Bands)
26|05|2018          Rotterdam | Eurotrash (Certain Animals)
17|05|2018          Helmond | Muziekcafé Helmond (Oorveeg)
29|04|2018          Krimpen a/d IJssel | De Boog
27|04|2018          Vlaardingen | KOFA (Kingsfest)
27|04|2018          Rotterdam | Biercafé Boudewijn (Nieuwe Binnenweg)
27|04|2018          Schiedam | Tapperij het Weeshuis (Live op Straat)
31|03|2018          Vlaardingen | De Kroepoekfabriek (Kid Harlequin)
17|03|2018          Schiedam | De Graauwe Hengst (TLOOL)
17|02|2018          Dordrecht | Popcentrale (Bandboost)
26|01|2018          Barendrecht | De Beuk
22|12|2017          Rotterdam | Eurotrash (Mikefest 4.0)
30|11|2017          Den Haag | Kompaan
22|10|2017          Rotterdam | Spot the Looney
15|09|2017          Delft | De Koornbeurs
25|08|2017          Vlaardingen |KOFA
16|06|2017          Breda | Café de Speeltuin
09|06|2017          Leiden | De Hut van Ome Henne (Live en Lazaru's)
12|05|2017          Leiden | Rockcafé Lazaru's (Live en Lazaru's)
27|04|2017          Schiedam | De Graauwe Hengst
11|03|2017          Rotterdam | Plan C (Barbiepop)
17|12|2016          Vlaardingen | De Kroepoekfabriek  (Tokoloko)
17|12|2016          Dordrecht | Popcentrale (Muziekantencafé)
13|10|2016          Den Haag | De Paap
21|07|2016          Rotterdam | Zondebok en Zwarte Schaap  (Eendrachtfestival 7.0)